Patriots Pen Essay Contest 2016
24 Sep Patriot's Pen $5,000 Scholarship Contest
Each year more than 132,000 students in grades 6-8 enter the VFW's Patriot's Pen youth essay contest. The first-place winner from each state competes for national awards totaling $54,500, with each first-place state winner receiving a minimum of $500 at the national level. The national first-place winner wins $5,000 and an all-expense-paid trip to Washington, D.C. This year's theme is "America's Gift to My Generation." Entries must be submitted to a VFW Post no later than midnight on October 31, 2017. Click here for more information:https://www.vfw.org/community/youth-and-education/youth-scholarships#scholarship#patriotism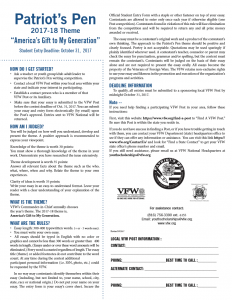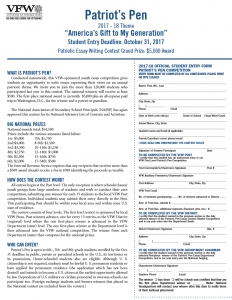 THE 2017-18 THEME IS: America's Gift to My Generation
Students can ask a teacher or youth group leader to supervise their progress in the competition. Then students can contact a local participating VFW Post and establish a contact person who is a member of that Post or its Auxiliary.
Essays must be no less than 300 words and cannot exceed 400 words. They should be submitted to the Post, along with the completed Patriot's Pen entry form no later than the November 1 deadline.
JUDGING CRITERIA:
Knowledge of the theme is worth 30 points. You must show a thorough knowledge of the theme in your work. Demonstrate you have researched the issue extensively.
Theme development is worth 35 points. Answer all relevant facts about the theme such as the who, what, where, when and why. Relate the theme to your own experiences.
Clarity of ideas is worth 35 points. Write your essay in an easy-to-understand format. Leave your reader with a clear understanding of your explanation of the theme.